LIVE FROM MANILA (remastered)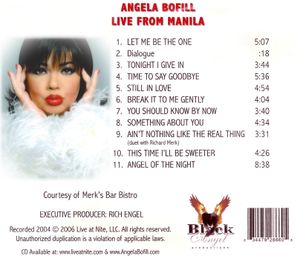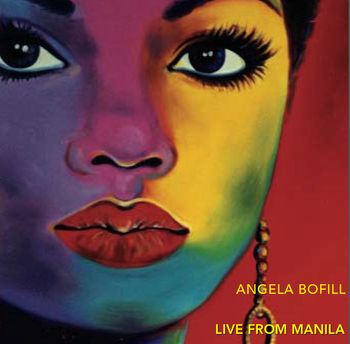 ORIGINALLY RECORDED LIVE IN 2004 AT AN 800 SEAT SOLD OUT VENUE, IN THE PHILIPPINES, CALLED MERKS BAR AND BISTRO.THE RECORDINGS WERE REMASTERED AND RELEASED IN 2006, AND REMAINS THE ONLY LIVE ALBUM OF ANGELA BOFILL EVER RELEASED. (full story in the booklet included)
THE ANTHOLOGY the Arista Years 1978 - 1993 SHIPS TOMORROW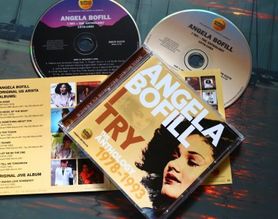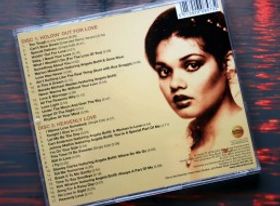 THE ARISTA YEARS 1979 - 1993. INCLUDING ANGELA FEATURED ON ARTISTS ALBUMS OF JOHNNY MATHIS, KIRK WHALUM, MARION MEADOWS, STANLEY CLARKE, BOZ SCAGGS, Carl Anderson.  Disc One: 1. To Tough, 2. Can't Slow Down, 3. Special Delivery, 4. Holden Out For Love, 5. Baby I need Your Love, 6. What I wouldn't Do, 7. Something about You, 8. Marion Meadows , featuring Angela Bofill, Love was Never, 9. Ain't Nothin Like the real thing (Angela Boz Scaggs duet ) 10. Is This A Dream, 11. Narada Michael Waldon and Angela Bofill, Never Wanna Be Without You, 12. Love and Marriage, 13. All The Reasons Why, 14. Love Light, 15, Under The Moon and Under The Sky, 16. Angel Of The Night, 17. Rhythm of Your Mind.   Disc two: 1. I Wanna Love Somebody, 2. Tonight I Give In, 3. Let Me Be The One, 4. Carl Anderson featuring Angela Bofill, 5. Johnny Mathis featuring Angela Bofill, 6. I'm On Your Side, 7. This Time I'll Be Sweeter, 8. Still In Love, 9. I Try, 10. Stanley Clarke featuring Angela Bofill, Where Do We Go, 11. Tell Me Tomorrow, 12. Break It To Me Gently, 13. Time To Say Goodby, 14. Kirk Whalum featuring Angela Bofill, Always a Part Of Me, 15. Song For A Rainy Day, 1
6. No Love in sight, 17. Heavenly Love.
ANGELA BOFILL COMBO: ANTHOLOGY, LIVE FROM MANILA, LARGE LITHO TEE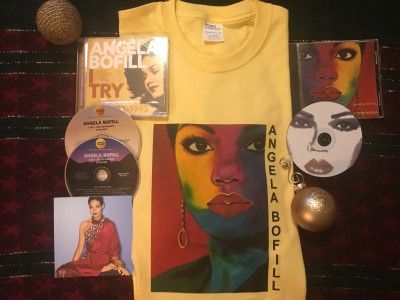 ANGELA BOFILL "I TRY" THE ANTHOLOGY. 1978 - 1993. THIRTY FOUR SONG DOUBLE CD, "LIVE FROM MANILA"  HEAVY WEIGHT LITHO TEE $40                    &nb
sp; SAVE $18.00 IF PURCHASED SEPARATELY
Angela Bofill Heavy weight 100% Cotton, Tee.Short Sleeve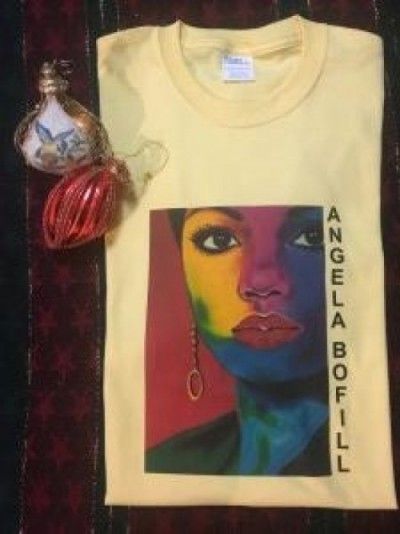 PALE YELLOW SHIRT COMPLIMENTS THE DEEP, RICH COLORS THAT ACCURATELY CAPTURE THE ORIGINAL PAINTING OF ARTIST BERNARD JACKSON, USED FOR THE "LIVE FROM MANILA" ALBUM COVER ART.
Three CD and Art for Framing - SHIPS TOMORROW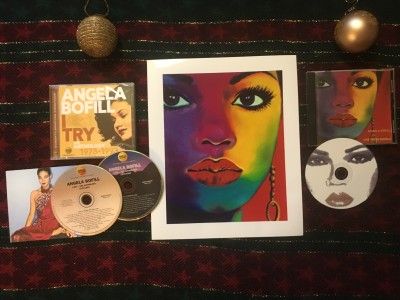 ANTHOLOGY DOUBLE CD (scroll to Anthology on products list to see titles) Bernard Jackson depiction of Angela is captured in a vivid print of his acclaimed piece of art, that cries out for framing. Image 12" L X 10" W 
 Three CD's + Art $30.00